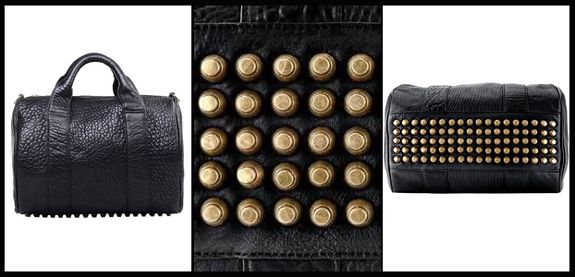 The Alexa Studded Calfskin Leather Bag is one our most loved designs. The studded bottom surface of the bag is a pleasant surprise. What seems like a simple black tote has a studded rockstar underbelly. This bag is enough to make even the shyest of girls feel confident and edgy. If you want an extra boost of rock and roll glam, this bag is the way to go.
The army of golden studs on bottom make this an excellent accessory for a wild night on the town but don't detract away from the subdued look of the rest of the bag should you want to carry it to work. For when you do need it for a serious day at work or college, it's got an adjustable strap which can convert it into a shoulder bag and make it easier to lug around. It's black color means it can go with a wide variety of outfits.
However, it's most cutting edge look is when paired with a leather jacket or jeggings. If you ever wanted to know what it feels like to be the lead in a celebrated band, this one of these looks paired with the above bag! It's sure to be an exhilarating day.
If you're interested in mixing it up, it also comes in camel, chocolate and olive.