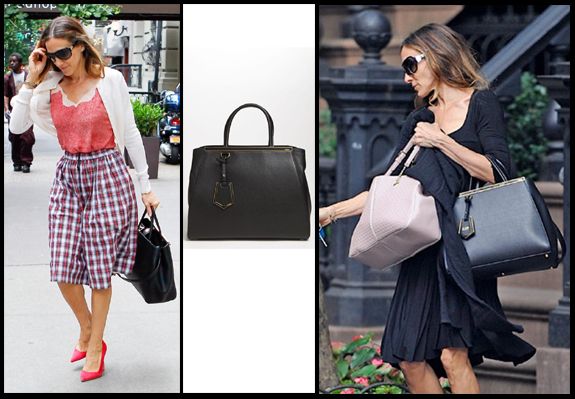 Sarah Jessica Parker played the iconic Carrie Bradshaw on HBO's Sex and The City many years ago. In 2000, she made the Fendi baguette the Must Have It Bag of the season. While It Bags have been around for decades since Gucci made one inspired by Grace Kelly and Hermes made one inspired by the muse Jane Birkin, the baguette was the first one which was on such a widely watched TV series. Gone were the days when only billionaire's wives knew about the latest fashions from Paris and Milan. TV brought the It bag to women raking in their own cash with their own careers.
Sarah's bag with a new Fendi It bag – the 2Jour Elite bag. This one's quite interesting because quite a few celebs have been spotted with it and they've all got their own tags with their initials on the bag. Sarah's are visible too – SJP.
The bag is easily recognizable by its shape. That sets it apart from square shaped Celine totes and sleek lined Berkins. That way, anyone who sees it on your arm will know exactly what a stunner you're carrying. It looks mega expensive paired with a monochromatic black outfit and looks equally chic with a colorful casual outfit. Fendi sure does know how to make a status symbol of a bag!